As winner of numerous international awards, Bruschi Spa is known for its innovative approach in design and technology. We are glad to share our insights and experiences with the industry members.
Product Design for Die Casting
by Arianna Piersigilli
December 11, 2018
---
The term product design defines the process of designing a new product that has to be marketed in a specific business, taking into account not only its aesthetical characteristics but also its functions and its production cycle. Indeed, the product must meet the final user expectations while simultaneously be compliant with the production process.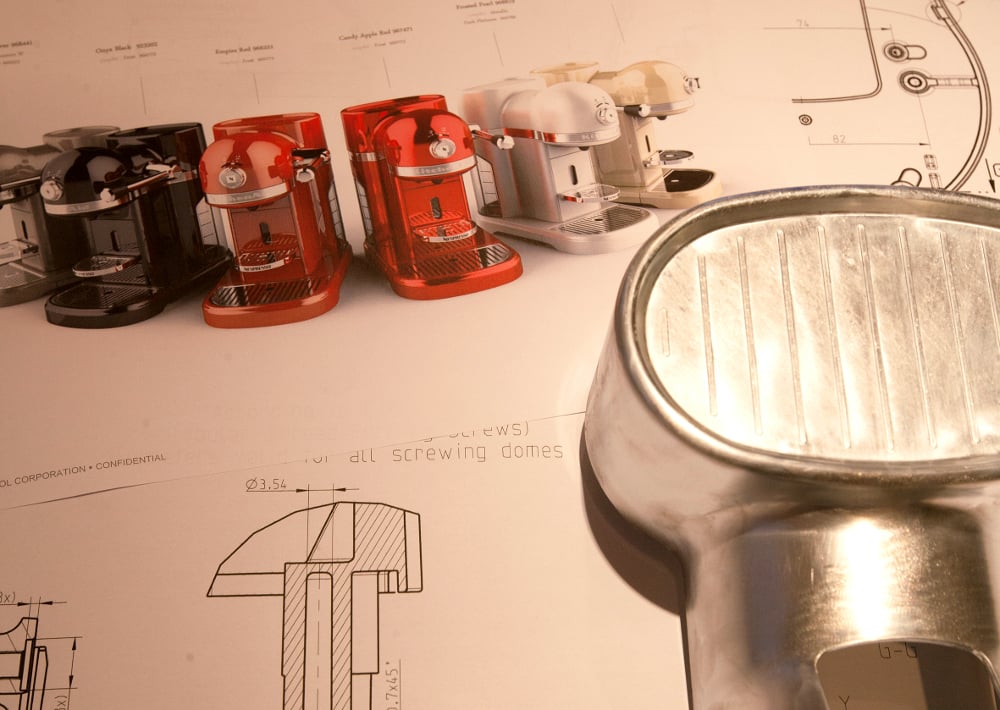 Product design is a process that needs to be developed considering multiple aspects of the component and that consequently requires the integration of various activities, such as co-design service, compiling a DFM, mold design, simulation and analysis of further operations.
As a matter of fact, product design is strictly related to production process design: the two concepts deeply influence each other, indeed product design is developed considering production methods' characteristics and vice versa. Product design represents a complex and multifaceted process, that not only has to consider product and production, but also choice of materials, aesthetical and functional requirements, mechanical operations, superficial treatments and requested quality of the component.
Co-design service
In order to achieve a balanced result in terms of aesthetics, functionality and feasibility, product design is often developed by a manufacturing company together with the customer. The cooperation of supplier and client is defined as co-design service: a collaboration that promotes information and know-how sharing, with the purpose of achieving a positive outcome of the project. Engineers can thus study mechanical and physical features of the product in order to find solutions to assure functionality and manufacturability, consequently meeting customers' expectations.
Co-design service generates advantages not only in terms of process and design optimization, but also regarding the relationship between customer and supplier: a continuous exchange of information increases trust and reliance, not to mention that supplier and customer's knowledge is enriched.
You can find further posts on co-design here:
• Die casting services: the power of Co-Design
• Co-design in zinc die casting: improving your idea or product
• Weight reduction: lightweight as a benefit of co-design
• How Zamak Die Casters can improve your product quality
• Involving your die casting supplier in the design process
DFM: a bridge between client and supplier
Client and supplier exchange information to define product design and its manufacture process through a document named DFM: Design For Manufacturability. The aim of a DFM is to describe the product and its connection with the productive process, to analyze technical feasibility of the project and suggest solutions in order to facilitate the manufacturing process. Through this document technicians can state if the design is in compliance with the technological systems of the production department, then they can advise on adjusting specific product characteristics or production stages.
When selecting die casting as production method it is necessary to conduct specific analysis regarding cored holes, closing lines and extraction points: product design is thus inextricably linked to mold design, and consequently to the productive process. The use of molds results beneficial because it allows the replicability of the component over time, but at the same time it involves complex studies and tests in order to obtain a mold suitable for the product: the DFM contains all the information needed to reach this objective.
If you would like to know more about DFM, click on the post below:
• Product design for die casting: how to speed up and optimize your DFM
Mold design
Considering die casting as a processing method, the very first aspect to examine is mold design: it is indeed the core element of the die casting process. Client and supplier collaborate to develop a system that is suitable both for mold and component, taking into account product's aesthetical and functional requirements but also considering mechanical design of the mold: it must, indeed, be resistant, solid and functional for the production process.
First of all it is necessary to verify if the product can be produced with high pressure die casting methods, analyzing component's dimensions and geometry. Once product's geometry and characteristics are completely defined, the actual mold design process can start: this phase involves examination of product's features, number of cavities, projection area, volume and shape of the mold. Two main elements that compose mold design are design of hot chamber injection system and simulation phase: modality of injection is indeed a core aspect to be analyzed when developing a mold, whereas simulation constitutes an advantageous tool for defining the most appropriate parameters before the component is produced.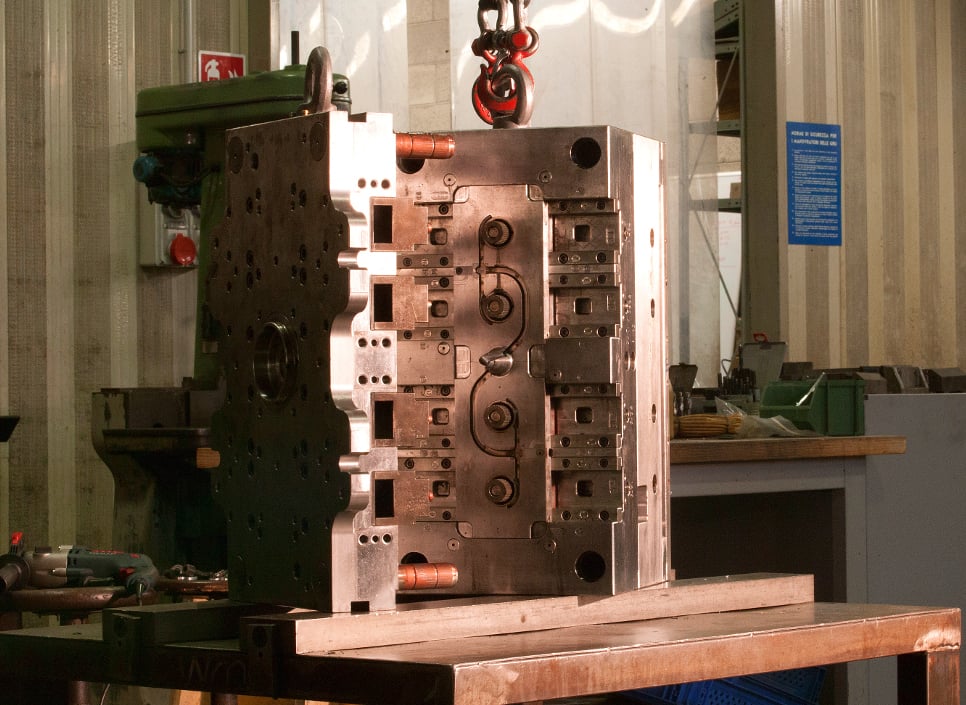 Design of hot chamber injection system
In die casting industry, talking about mold design, a fundamental element that has to be considered is the design of hot chamber injection system. As a matter of fact, injection method constitutes a core aspect that impacts on production optimization and product's characteristics. The feed and the runner are the two main elements that compose the injection system: the definition of their configuration and dimension results crucial for the final results of the casting process, because different shapes lead to different outputs and can also reduce potential defects on the die cast.
To know more on hot chamber injection system, here is a post on the subject:
• Casting process optimization: design of hot chamber injection system

Simulation
As already mentioned, a valuable tool for product and mold design is simulation: with simulation software, CAD programs and 3D software engineers examine technical properties of the product and define the best parameters to apply. These devices constitute an essential support in the analysis of physical features, in terms of resistance and structure, allowing engineers to previously detect potential critical issues on the product, thus reducing problems that could arise in retrospect. Indeed, already in the first stages of mold filling, it is possible to observe mistakes that can compromise product's manufacture, such as a too rapid metal solidification: simulation helps avoiding these issues from the very beginning.
To have a look at case studies on simulation, here are some additional posts:
• Simulation for HPDC: scrap reduction case study
• Simulation for HPDC: shrinkage porosity case study
• Benefits of simulation in die casting design
For detailed information on mold design, click on the following post:
• How to optimize die casting mold design
• The correct shape of high pressure die casting products

Further operations
Product design also concerns the analysis of further operations that have to be processed after die casting phase. Indeed, when designing a product, it is essential to consider what type of subsequent operation it must undergo: further processing could be mechanical operations, superficial treatments, assembly operations or automation processes. Taking into account these operations already during product design phase allows engineers to operate specific actions and to set precise parameters in order to obtain a flawless result. Below are some examples of further operations:
Mechanical operations
Typical mechanical operations are reaming and threading: if the component has to be threaded, already during mold design phase engineers define specific parameters.
Superficial treatments
If the product must undergo superficial treatments, such as painting or chroming, it is essential to foresee potential defects that could arise after the treatment. For example, some superficial treatments are performed at very high temperatures that could potentially determine the formation of air entrapment in the component: during mold design process it is therefore necessary to foresee air evacuation.
Assembly
If the piece must be assembled with another component engineers have to consider tolerances that are functional to assembly. For example, if the piece has to be inserted into another one, like a hole and a pivot, it is essential to foresee the right interference between the two.
Automation
Automation represents a common factor to all further operations: automated operations for further treatments guarantee appropriate productivity and reduced costs, thus obtaining a product suitable to client's requests.
If you are interested in processing techniques, here are additional posts on this topic:
• Processing techniques for metal finishing
• Coating, plating and other kind of surface treatments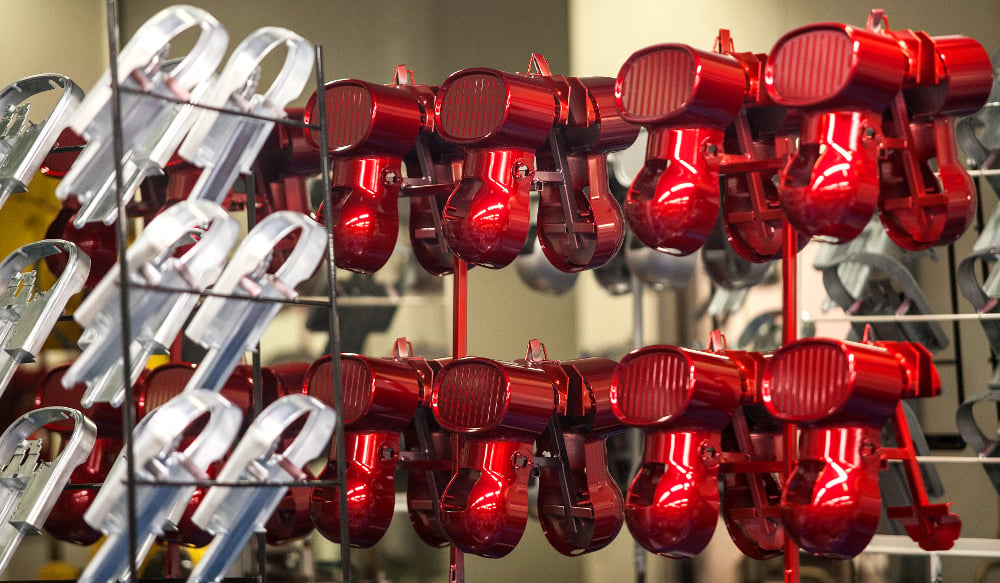 Benefits of product design
Product design proves to be an indispensable phase in the production of a component, because it allows experts to identify the most performing processes and features in order to produce excellent results in terms of aesthetics, functionality and compliance with the productive process. Developing a well-structured product design process is therefore necessary to achieve relevant benefits, such as decreasing production costs, increasing customers' trust, reaching clients' satisfaction and producing a component that is aesthetically appealing, functional and compliant to mass production.

To get updates on trends and innovations in the Zinc Die Casting industry, you are welcome to subscribe to our blog.
---