PIT STOP: a moment of dialogue for personal, professional, and corporate growth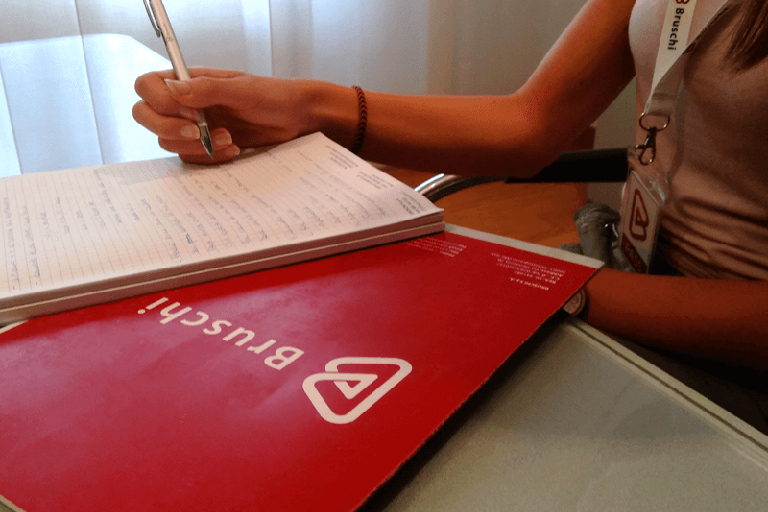 An initiative in which we strongly believe in Bruschi is the organization of periodic meetings with our collaborators, which are called PIT STOP. These are moments of confrontation and dialogue that involve individual collaborators, the area manager, the selection and development manager, and the owners of the company.
The objective of the PIT STOPs is twofold: on the one hand, they allow you to plan the training and professional and personal growth path of each individual employee to make them able to work more and more independently and with greater awareness. On the other hand, they also represent a moment of confrontation where the worker can freely propose new ideas but also highlight any areas for business improvement, thus allowing Bruschi itself to improve and create a serene and collaborative work environment thanks to listening to valuable opinions and ideas of all those who live the Bruschi daily life day after day. Understanding one's internal strengths and weaknesses is the basis for harmonious growth of the entire team and reconciling the achievement of personal goals with those of the company.
INTERNAL APPLICATIONS
Bruschi encourages its collaborators to submit CVs of friends, relatives, and acquaintances to internal attention.
This initiative aims to stimulate a new way to find collaborators who can be part of the Bruschi team and also allow employees to propose people who they consider valid and important for the development of the company.
To facilitate these spontaneous applications from our collaborators, we have created a page on the company website through which it is possible to propose curricula for the various company departments and we have also placed a physical box within our plants that facilitates the collection of CVs.
IDEAS, IDEAS, AND MORE IDEAS
We want all our collaborators to have the opportunity to make suggestions, propose projects or simple ideas. To encourage this initiative, therefore, in Bruschi there is an open dialogue and, in digital mode as in physical mode, there is the "Idea Box": anyone who has useful suggestions for the company can express them by filling out a special form and depositing it in the box. The goal is to always intercept new proposals and stimulate the proactivity of our collaborators.