Bruschi die casting
BLOG

. Stay on top of the Industry
As winner of numerous international awards, Bruschi Spa is known for its innovative approach in design and technology. We are glad to share our insights and experiences with the industry members.
The correct shape of high pressure die casting products
by Marcello Cazzaniga
January 24, 2017
---
The most important thing that a designer needs to consider before product design is to have an unlocked mind from usual and common mechanical processes. It is fundamental to point out that with high pressure die casting it is possible to create products without ordinary shapes and not to be bounded to customary morphology.
Die casting allows to design unusual shapes
During design activity is important not to be bounded to shapes that can be realized by common manufacturing tools but to be open minded and design an unusual shape.
However designer can face two different situations: in case of technical products is important to choose the most suitable shape given by FEM analysis; while in case of aesthetic products designers are free to think about fitting shapes, without being influenced by anything.
Unrestrained design accomplishments should be supported by co-design activities.
Co-design
Co-design is how suppliers can help customers during initial phases of a process, trying to improve already existing products or components, paying attention to design. It is important to take into account the entire production process and analyse it.
For this reason the perfect zinc die casting manufacturer should have an entire engineering department dedicated to analysis and simulation, supporting its customers during the product design phase.
In addition, the right supplier should provide to its clients rapid prototyping, already inside its structure, using pilot tools. Prototypes allow a direct connection with the construction of the mould: this means a faster approach to manufacturing processes.
This collaboration between die casters and customers for co-design is clarified into expedients of die casting process that allow to realize complex shapes of high pressure die casting products:
- Draft angles
- Thickness
- Sharp edges
- Parting line geometry
- Ejection
Draft angles
Draft angles are useful to avoid the casting sticking on the die.
It is important, during design phase, to take into consideration a draft angle value of 1° on inner shapes and 0.5° on outer shapes: this process will allow a correct ejection from the mould. However realizing complex moulds often permits to have products without draft angles.
A good supplier is able to provide suggestions to obtain the most suitable draft angles possible in order to have a smooth production.
Thickness
It is usual to level out thicknesses of a product. This operation allows to obtain a better structure of the casted component. Designing weight reductions and correct shapes to eliminate overflows, leads to economic advantages because of the decreasing of raw material and allows to avoid porosity of the casted part.
To avoid this excessive porosity designers need to follow a simple rule to reduce the ratio diameters of inscribed spheres.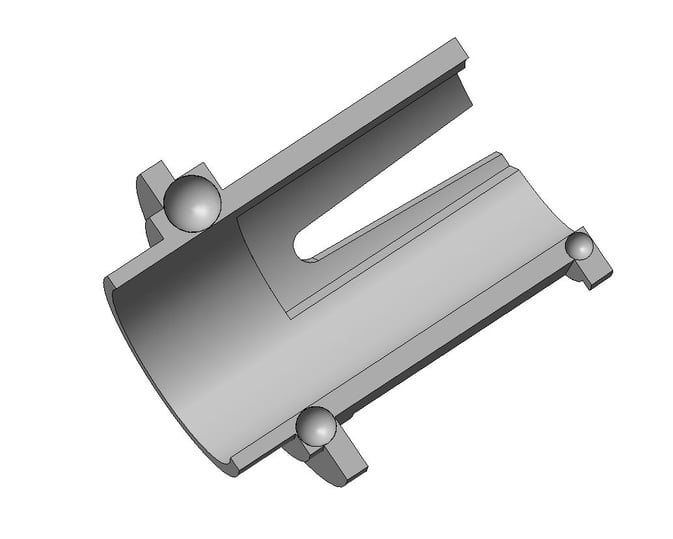 Sharp edges
Sharp edges can be realized but better process results can be obtained designing fillet radii, where is possible, in high pressure die casting products.
Sometimes a small fillet radius allows important savings during production process.
Parting line geometry
The geometry of parting lines is given by the design of components. To produce a flash free component is important to have expert toolmakers able to design molds considering their easy manufacturing and simple maintenance activities.
The right zinc die caster is able to create a mould that can avoid issues regarding split lines. When the designer is planning a component, it is important to consider the available of the gate area taking care of the passage of the liquid metal that flows into the cavity. It is also important to have acceptable gate area to avoid trimming problems: a possible solution could be to change component geometry.
Ejection phase
Ejection can be considered as last step of the casting. It is important, during this operation, to move the casting and the runner without deforming the component.
This phase is critical and must be analyzed during the study of draft angles, but choosing the right supplier could prevent any problem.
Cost
Choosing the right zinc die casting manufacturer is a tough issue: it is important that a supplier knows how to develop a product or component in a cost saving way: in fact with zinc die casting technology an important cost saving is feasible.
Cost saving in terms of additional machining, assembling reducing the number of components, minimizing machining processes but also minimizing risks during the process to meet deadlines and, in this way, avoid extra costs.
Co-Design is another way to increase cost saving. Thanks to this activity, the right supplier is able to provide its clients many services such as simulation, prototyping, testing, process optimization. These services are useful during product design to understand which problems can be faced, find out the proper corrections to optimize and make the process stable and efficient.
For all these reasons a co-design activity is fundamental to develop, in synergy with clients, a better product, with higher performances, that reaches goals but always in a cost and time saving way.
Optimizing the product design for die casting means to create innovative and creative solutions together with customers.
To be updated on trends and innovations in the Zinc Die Casting industry, you are welcome to subscribe to our blog.