Bruschi die casting
BLOG

. Stay on top of the Industry
As winner of numerous international awards, Bruschi Spa is known for its innovative approach in design and technology. We are glad to share our insights and experiences with the industry members.
How Industry 4.0 becomes Casting 4.0
by Martina Fagnani
November 30, 2016
We are in the middle of a new industrial revolution: the fourth one. It's called Industry 4.0. This term, used for the first time in Germany in 2010, is related to the digitalization of information. In this post we will see how Bruschi is approaching Industry 4.0 and how this new industrial revolution is affecting its business.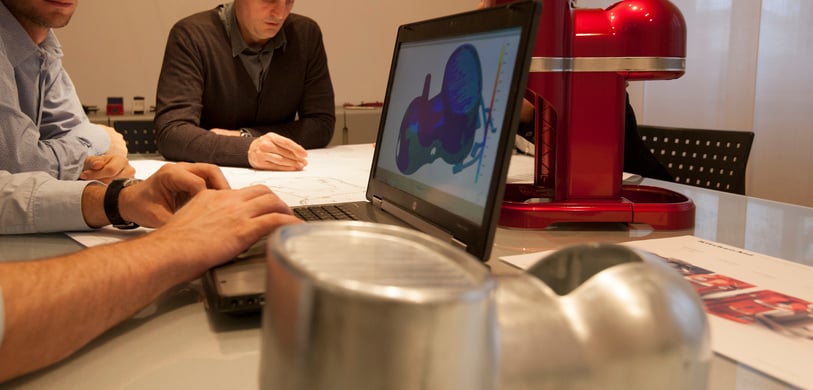 Over the last 20 years, thanks to research and technological innovation, more and more people started to be everyday connected among them through the net and, at the same time, in manufacturing companies machines have been connected to software able to collect a big amount of data.
The Industry 4.0
The first Industrial Revolution was about the issue that machines could replace humans. The second one was about the invention of electricity and other innovations, in the next few years, including the internal combustion engine, the airplanes and moving pictures. The third one started in the 60s and was based on IT and automation. The Industrial Revolution 4.0 is linked to digitalization and data that allow, in the present or in the future, the use of some revolutionary tools or product such as 3d printing, small robotics, materials lighter and driverless cars.
Nowadays the entire industrial process is digitalized: new machines are created everyday and the key point is that they can replace human work. Technology has shortened distances between digital and real world. Our life is always connected, with a lot of innovative solutions. Technology has always driven big social and economic changes since the first Industrial Revolution.
Today we are in the middle of a new technology era that leads to a digital transformation. New products for advanced consumers but, more importantly, production efficiency and more flexibility in terms of production in automation process thanks to new technologies, to control systems and to more intelligent devices.
Industry 4.0 is about industrial production: now the technicians are not the responsible for a single operation, but the interpreter of the entire technological process. They can set the machines simply using an arm to show the machine the correct movement. The result is improving the process and saving time, using digital information to increase and modify the processes of a company and, above all, in this way digital information is easily shared and available for everyone.
This means that nowadays data are the center of the business.
Big data and digitalization in Bruschi: casting 4.0
It is also the age of big data: we are surrounded by information. Big data is a term for data sets that are so large or complex that traditional data processing applications are inadequate to deal with them. Big data include data sets with a huge size that are impossible to process with normal software. Big data require new set of technologies more complex than the already existing one.
Companies that in these years have used this concept of industry 4.0 have increased their productive system, machines and tools. In this way, thanks to technology, companies have developed a flow that produces data, which have to be analyzed in order to improve the performance of the plant.
Bruschi has been a groundbreaking company regarding industry 4.0. Already more than 10 years ago the project was to use a MES software dedicated to machines production that was able to give information about products, number of production line batch, from the raw product to the finished one.
Nowadays a software able to create an information network has been implemented; it organizes the acquisition of data from the entire production plant: from the technical department to industrial machines.
All the plants are in this network, to have a digitalized supply chain able to improve performances in order to reach and anticipate the customer's needs.
To be updated on trends and innovations in the Zinc Die Casting industry, you are welcome to subscribe to our blog.
---