Bruschi die casting
BLOG

. Stay on top of the Industry
As winner of numerous international awards, Bruschi Spa is known for its innovative approach in design and technology. We are glad to share our insights and experiences with the industry members.
How zamak die casters can support value analysis
by Marcello Cazzaniga
January 27, 2017
---
The main benefits of using Zinc alloys are accuracy, machinability, thin wall capability, castability, dimensional stability, and joining feasibility. Zamak die casters should help their customers reduce manufacturing costs, which in that industry can be divided into three main fields: raw materials, labour and process.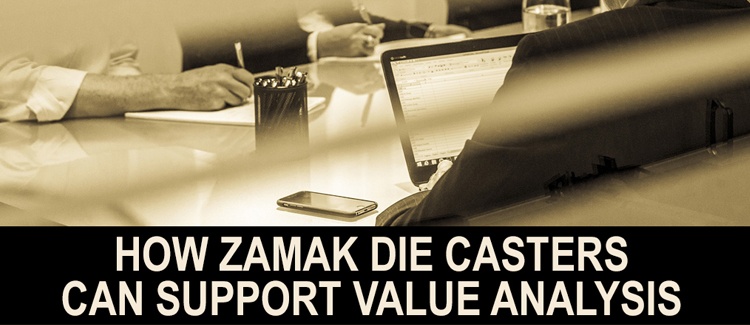 Value analysis/Value Engineering
Value Analysis is a standardized, multi-skilled team approach, which is aimed at identifying the lowest cost way and ensuring the highest worth to accomplish the functions of a product, process or service.
Joint Value Analysis/Value Engineering is the best way to pursue the long-term goal to establish good business relationships with zamak die casters: trust and open sharing of information and ideas are the basis of this kind of collaborations.
The supplier involvement during VA/VE can help a company save money and optimize a product design; in die-casting and metal injection moulding, it is possible to achieve lower costs, better performance, higher quality, and shorter time-to-market.
A fundamental part of Procurement strategy is to increase supplier involvement and collaboration in product improvement, cost reduction and enhancement activities. Informing and involving zamak die casters in VA/VE activities, therefore, can help clarify the process definition and encourage alternative proposals, resulting in more competitive price and/or better product.
Benefits of cost savings, process improvement, and transparent communication are shared between die casters and customers as the supplier can determine a calculated cost reduction, show quality improvement or scrap reduction; the customer benefits from open communication, cost reduction and/or better quality, and delivery within the deadline.
Zamak die casters involvement during VA/VE can lead to proposals for component design changes (materials or specifications, dimension or tolerances, components substitutions), manufacturing or assembly process changes (tests reduction, new process technology, part reliability), and logistics (reduced freight costs, packaging improvements, inventory management).
Product engineers are always trying to reduce production and material costs, maintaining at the same time the quality of products. Value Analysis / Value Engineering is fundamental to reach that goal.
A die casting company can save costs among three different fields, as we said above choosing the best material to meet the customer's expectations, finding the best assembly process, and using a simulation tool to prevent any processing issues.
Choosing to use Zamak instead of aluminium, stainless steel or any other material can be the perfect way to save costs.
Zamak die casters can help reduce components for subassembly, leading to time saving both for parts control and for assembly process.
With simulation tools, the entire production cycle can be simulated: based on data resulting from the analysis it is possible to choose the best design and process to satisfy even the most demanding customers.
Value Analysis Check List
Here below a series of question to ask yourself during value analysis / value engineering. If and when in doubt, consult an experienced die caster.
Can more functions be fulfilled with a redesign of the component?
Are you using the material that will result in the most economical product?
Is it possible to reduce wall thickness?

After simulation, tests and comparison with competitors' ones, is the component over engineered?

Is it possible to reduce material waste with different processes?
Are all tolerances strictly necessary?

Can minor design changes reduce machining operations?

Are surface finish requirements essential? Is it possible to use alternative finishing methods or optimize the design for the operation?
Can manual and assembly operations be totally eliminated / reduced / automated by design or process optimization?
Please feel free to share your experience in VA/VE and your suppliers' contribution to such an important phase by contacting us with the form below.
To be updated on trends and innovations in Zinc Die Casting Industry, you are welcome to subscribe to our blog.