Bruschi won the fifth NADCA Award in its history
by Nikoletta Pados
September 21, 2023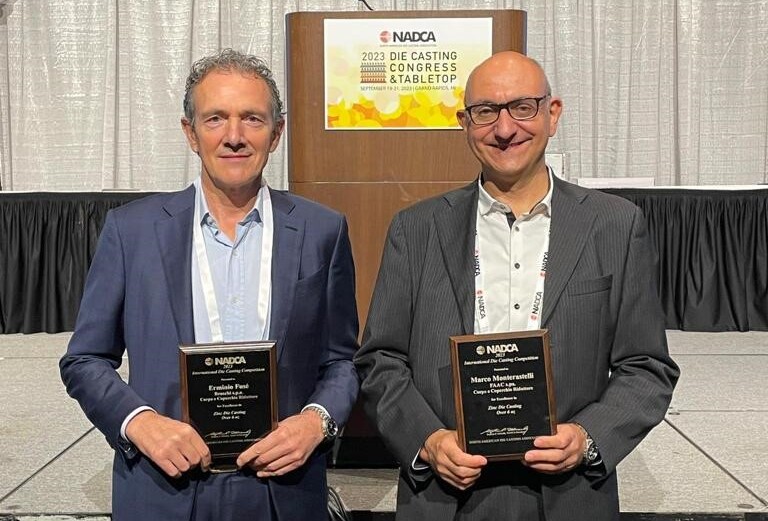 September 20, 2023-In the setting of the Die Casting Congress & Tabletop event in Grand Rapids, MI, Bruschi won the fifth NADCA Award in her history. In this 2023 edition, Bruschi won his fifth NADCA Award thanks to a piece part of a complex opening system produced for FAAC S.p.A., a historic Italian multinational company specialized in automation for gates and barriers, automatic entrances and doors, car parks and access control.
This is a significant moment for the company, as it further solidifies its position of technological leadership in the world of zinc alloy die casting. This achievement coincides with the months during which Bruschi also emerged as a key player in the world of aluminum alloy die casting, thanks to the acquisition of SAPRE Srl, a historic Italian company specializing in aluminum alloys, all while celebrating its 75th anniversary.
Paolo Rastelli, CEO of Bruschi, made the following statement: "The acquisition of a new production plant for aluminum die castings and our company's anniversary were significant milestones for us. They served to rejuvenate the energy we dedicate to our daily foundry operations, ensuring customer satisfaction. This fifth NADCA Award represents another such moment—a piece of news that ignites even greater enthusiasm and energy within the company. This recognition highly gratifies us, and I am confident it will motivate us to work with increased dedication and focus, striving to achieve further noteworthy results."
This award joins the ranks of four other projects from Bruschi that have received this prestigious recognition:
1997 - NADCA Award: Bruschi earned this accolade through a historic collaboration with Olivetti, resulting in a printer featuring zinc components.
2001 - NADCA Award: A joint effort between Bruschi and Alcatel led to the creation of an Alcatel frame, garnering Bruschi the NADCA award in 2001.
2016 - NADCA Award: A partnership with ARCA produced the CM18 Reader component, designed by Bruschi through co-design, which allowed the requesting company to achieve up to 40% cost savings. This achievement earned Bruschi the NADCA Award in 2016.
2021 - NADCA Award: Bruschi secured the 2021 NADCA Award for designing and producing an aesthetic component for a well-known car manufacturer's steering wheel, manufactured on behalf of ZF, an important Tier 1 company in the automotive sector.


For more information on Bruschi's other award-winning projects, click here: Awards.
In the photo, Ermo Fusè, Strategic Technology Manager of Bruschi, receives the NADCA Award together with Luca La Ganga, Principal Mechanical Engineer of FAAC.