Bruschi Webinar - Changing Materials: why choose zinc
by Stefano Airoldi
December 6, 2022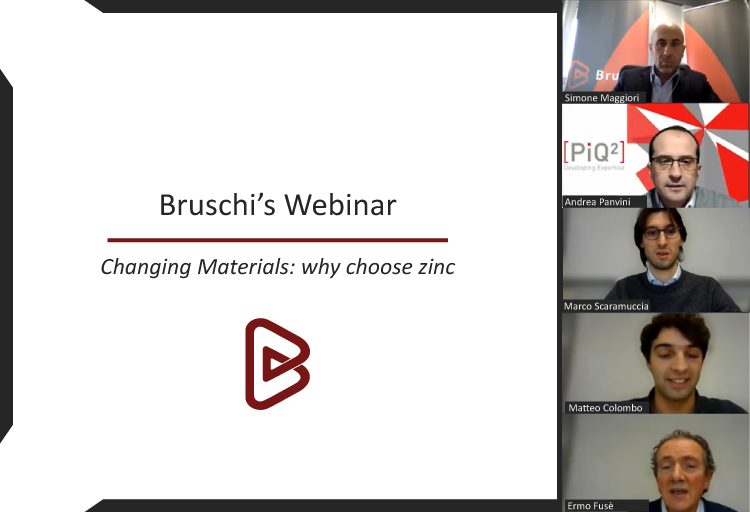 Almost two years after its last online event on November 30, 2022 Bruschi presented its new Webinar "Changing Materials: why choose zinc."
The event was held twice during the day to accommodate the schedules of different time zones to provide an opportunity for viewers from around the world to be able to succeed in attending. It was an interesting opportunity to introduce the news of zinc die casting, and the main topics were covered starting from raw materials and their different characteristics, in collaboration with Eng. Andrea Panvini.
The webinar was structured starting from the novelties related to the process with a focus on surface treatments, to the discussion of case studies derived directly from the production of Bruschi foundries.
Here is the program in detail:
Greetings and a brief introduction by Bruschi - Simone Maggiori
Distinctive characteristics of zinc and alloys analyzed by PiQ², Bruschi's partner - Andrea Panvini
Bruschi Production Case Study - size and precision, focus on the advantage of zinc over aluminum - Marco Scaramuccia
Bruschi Production Case Study - surface quality and strength testing, focus on zinc's advantage for precision - Matteo Colombo
Bruschi Production Case Study - versatility and practicality of zinc over other materials - Ermo Fusè
Questions and Answers

Following a brief description by Simone Maggiori, Vice President & Head of Sales at Bruschi, the webinar immediately focused on the real star of the event: zinc.
The competitiveness of zinc, by Ing. Andrea Panvini of PiQ²
With a presentation on the main capabilities that distinguish this element from other materials, Ing. Panvini presented concrete cases for which zinc excels due to its properties, such as its corrosion resistance, mechanical properties, and thermal conductivity.
The demonstration continued with precise comparisons of zinc's competitors such as: aluminum, magnesium, sintered powdered metals, trimmed and cold-formed steel sheet, and plastic.
When is zinc the best choice?
If machining is involved with complicated shapes that require a lot of assembly work
Where there is a need for greater design flexibility with very high dimensional accuracy
For lower investment in tooling
When dealing with non-symmetrical geometry
If there is a need to generate less residue by requiring less alloy use

First Bruschi Case Study by Marco Scaramuccia
Size and precision were the values on which the first Case Study focused the advantages of zinc over aluminum.
The product presented was a component overmolded with plastic for a well-known automotive company with very specific requirements:
Geometric stability and repeatability capability
Tight tolerances
Requirements on mass
Why was zinc preferred over aluminum for this product?
Through demonstration videos, Ing. Scaramuccia demonstrated the qualities of zamak die casting for the automotive customer's request, highlighting its advantages of obtaining parts with well-defined contours and meeting tight drawing tolerances without resorting to subsequent machining.
What are the mass requirements for the component?
The Case Study presentation demonstrated that the die-cast zamak product allows proper mold filling verifiable by density controls.
Bruschi Second Case Study by Matteo Colombo
This was followed by the Case Study, also born out of experience in the Bruschi foundry, focusing on mechanical strength with a focus on the advantage of zinc for precision.
This component is also intended for a major automotive company with production volumes greater than 1mio/year and a wide range of diameters: approx. M20 to M50.
The product has three specific requirements:
Geometric stability and repeatability
Tight tolerances on threading, down to 5g
Force requirements
Since this is a very special case, Bruschi adopted different measurement methodologies, one of which is the use of the 3D structured light scanner for complete evaluation of the geometry and comparison with nominal data. The very tight tolerances required for this type of product are not achievable with aluminum die-cast molds.
An additional measurement technology used is to test and analyze the pressure losses of the part flow. With the die casting process alone, positive results are achieved for pressure drop values below 500mbar for the duration of one minute.
Why choose zamak over aluminum?
The choice of zamak allows higher tensile strength (UTS) than aluminum, and higher annual production volumes.
Bruschi Third Case Case Study by Ermo Fusè
To close the Webinar, two case studies were presented by Ermo Fusè of which the first related to an electronic board heat sink (PCB).
This case demonstrated how zamak is an excellent material to use for heat sinks when compared to die-cast aluminum. The EMI shielding property also proved to be very useful in this project. The flatness accuracy and low roughness value of the product obtained from the die-casting process alone, together with the fast cycle time, avoided several machining operations translating into major savings for the customer.
The durability of the mold allowed high production volumes with the same tool, in this case 5 times that of aluminum, providing great savings in tooling cost.
Bruschi Fourth Case Study by Ermo Fusè
The last case study re-presents how zinc alloy proved to be the best solution compared to other materials for these reasons:
the necessary rigidity and strength of the structure
the realization of complex shapes
the adherence to tight dimensional tolerances
the stability and repeatability of the production process
almost finished part from molding, very important savings in the cost of products due to the elimination of assembly operations
Why choose zinc?
Case study presentations from all speakers demonstrate for which cases zinc is preferred over other materials due to its corrosion resistance, mechanical properties, and thermal conductivity but also due to additional capabilities:
simplification of assembly activities by obtaining complex
molding templates without additional processing
savings as a result of longer mold life
less residue that is equally recyclable
increased production volumes in less time
The ever-increasing use of simulation software and the technological advancement of production equipment dedicated to zinc alloy die casting may help shift the interest of those potential customers who habitually turn to the plastic or aluminum market to the zinc alloy market.
Would you like to explore this topic further?
Discover our article "What is zinc die casting? What will it be like in 2022?" or our article "Mechanical strength: Breaking load test for zinc alloy components".
Otherwise, contact us for more information.