"Past, present, future": Bruschi's Team Building dedicated to the values of Trust, Appreciation, Accountability
by Nikoletta Pados
June 12, 2023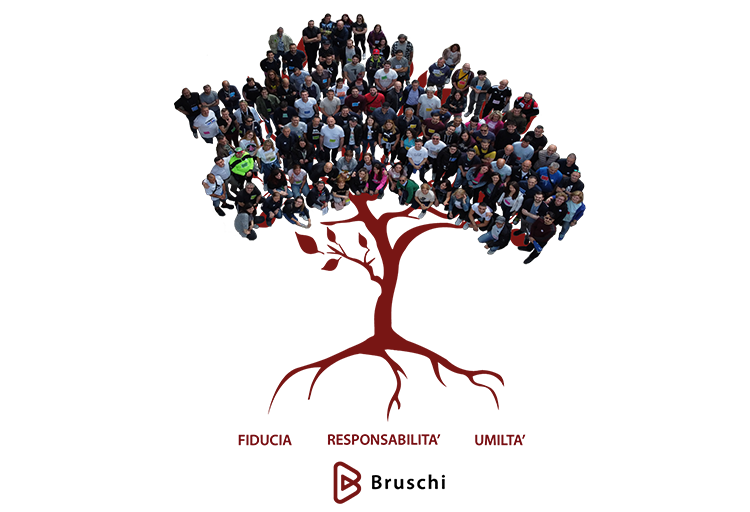 On Monday, May 29th, 2023, the "Past, present, future" event organized by Bruschi for all its employees was held in Cascina Caremma in Besate. The event lasted the entire day and stood out as a Team Building moment dedicated to all Bruschi collaborators in the name of corporate values: Trust, Appreciation, and Accountability.
Precisely, the values of Trust, Appreciation, and Accountability were the fulcrum of the speeches, games, and activities that punctuated the day organized by Luca and Laura Varvelli, training partners who have been collaborating with Bruschi for many years now. Trust, Humility, and Responsibility were therefore materialized within a day dedicated to smiles, which saw the absolute participation of all Bruschi collaborators.
Paolo Rastelli, CEO of Bruschi, comments on the day: "It was certainly a special day for all of us: I am sure taking time to play and reflect together will have an important effect on our everyday work. The game, as well as the common reflection, in fact, have the ability to create new and different ties: ties that are different from what we experience every day in the company. These ties are of fundamental importance to us: they are the structure on which our team is based. A team that must be close-knit, in which our values such as Trust, Humility, and Responsibility guide the choices and work in unison with the technological skills that allow Bruschi to face cutting-edge challenges in the global context every day: in Europe and the United States. By its intrinsic nature, Bruschi seeks out the most technologically advanced challenges on the market, and I am convinced that only a team as close-knit as ours can be ready for these challenges".