Bruschi wins the prestigious European Zinc Die Casting award
by Marcello Cazzaniga
September 23, 2016
---
Brescia, Italy (23rd September 2016) — Industrial design and mass production Italian company Bruschi and American home appliance brand KitchenAid have won the prestigious European Zinc Die Casting Competition 2016 for Nespresso KitchenAid Artisan 5KES0503.
---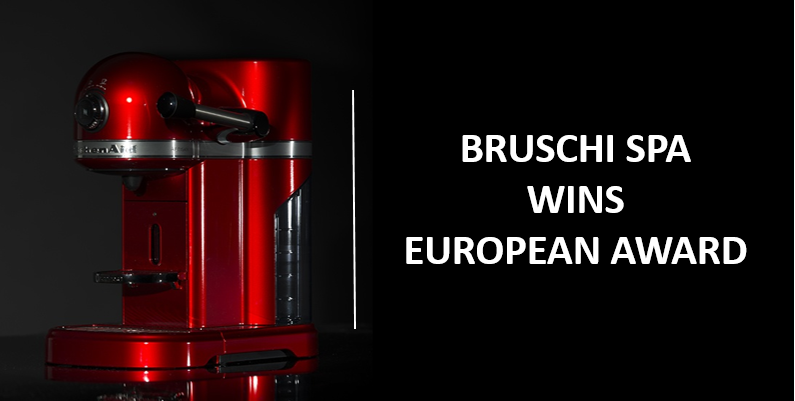 Bruschi wins the European Zinc Die Casting Competition 2016
The project was awarded thanks to the innovative finishing and stunning shapes developed and to an extraordinary zinc die casting process.
The cooperation between Bruschi and KitchenAid, in terms of co-design and engineering, was focused on a total quality management approach. Bruschi simulated with MAGMASOFT ® the whole cover to ensure KitchenAid an impeccable result: to minimize risks and develop a mass production process in order to reach customer's needs.
KitchenAid Small Appliance Global Senior Quality Manager Darrin Keiser said: "My experience with Bruschi has been a very gratifying journey. From the early days of the project where we had to choose a supplier with highly capable people, methods and manufacturing process, it was clear to me that Bruschi was a winning choice. Its team is committed to the high quality expectation our brand is associated with."
Bruschi Vice President & Head of Sales Simone Maggiori said "We are very proud to have won this important award. The project of Nespresso KitchenAid Artisan was an important step for us due to the complexity of components and to the process used to develop this product. The collaboration with the customer, in terms of co-design in die casting, allowed us to reach the expected goals: working from the beginning of the project we can support to develop components, focusing our attention on design and engineering, in order to guarantee the best possible quality with our expertise and our technology. I want to thanks KitchenAid for trusting our company and for their collaboration: this was really a great experience for us. That is the right direction for the future."
Bruschi Technical Manager Ermo Fusè noted: "It was a great challenge for us. We worked in order to meet both functional/aesthetical and process requirements. Our technical team was strictly focused on the task to ensure the customer's needs, in order to avoid adjustments in assembling operations. The flatness requirements within 0.3mm on bigger parts have been met indeed, even after heating during powder coating process. Specific design of the molds has been achieved in order to comply with the narrow tolerance required on mating shapes from +/-0.05 to +/-0.1mm on the bigger parts. All of those parts are die cast under vacuum. The vacuum system was developed entirely in Bruschi and it is currently installed on all the machines. This technology allows to get scrap rates close to zero."
A special thanks to our painting supplier VML for helping us to reach a great aesthetical aspect on this product. For further info about VML Click Here
About Bruschi:
For over 70 years Bruschi has been working in industrial production in the field of zinc die casting. Over time Bruschi has distinguished itself for efficiency, accuracy, ability to listen its customers' needs and its innovative drive in the design and technology. For further info Click Here
About KitchenAid:
KitchenAid is an American home appliance brand owned by Whirlpool Corporation: a worldwide brand in premium kitchen appliances. Their mission is to invent and innovate for gourmets, giving inspired solutions to the professional world. For further info Click Here
General Information about the European Zinc Die Casting Competition 2016:
In today's competitive global market, customers look for the best performing die castings which meet or even exceed their expectations. The European Zinc Die Casting Competition 2016 provides a unique platform to demonstrate expertise and skills to a broad international audience. Winners will be awarded at the International Zinc Die Casting Conference in Brescia, Italy on September 21-23, 2016. They will be asked to present their work within the conference program, highlighting the main characteristics of the casting and explaining the reasons for choosing zinc alloys. The entries will be judged by an independent jury of experts with no ties to eligible companies. The European Zinc Die Casting Competition 2016 will be organized by the International Zinc Association and will be supported by Initiative Zink (Germany), Zinc Fonderie (France), Assofond (Italy) and TEDFUN (Spain).
Subscribe to Bruschi Die Casting Blog and stay updated on the industry news and innovations.
---