Bruschi acquires HUF Plant in Milwaukee
by Vera Agostini
December 10, 2019

On December 9th 2019 Bruschi in agreement with HUF finalized the acquisition of HUF production unit in Milwaukee.
The HUF Group develops and produces mechanical and electronic locking systems, as well as vehicle access and authorization systems for the global automotive industry. Established in Velbert by Ernst Hülsbeck and August Fürst in 1908, the family-owned company today has locations in Europe, America and Asia. In the 2018 financial year, the HUF Group generated sales of roughly €1.2 billion and employed more than 10,000 people worldwide.
With a view to proceed with its growth strategy, Bruschi embraced the opportunity of closing the deal with HUF on the transfer of ownership of the production unit in Milwaukee.
The growth that has characterized Bruschi over the last few years, together with the view of the management for the future of manufacturing and innovation, has allowed the actualization of the deal and it represents a further step of Bruschi global development.
Already in the last few months Bruschi invested in the American territory on various fields: such as infrastructures, employment and technology. Bruschi bought a facility in Granville Woods, Milwaukee, where, starting from an abandoned warehouse, it worked and invested in order to turn it into a modern and efficient production unit. Today Bruschi wants to put the same energy into this new adventure: a firm breakthrough in its production capability in North America.
As previously mentioned, in the near future the facility will continue its current production and, already in the coming weeks, Bruschi will combine it with other projects brought by the Italian plant. This agreement with HUF, which becomes a partnership for the next few years, together with the projects brought from Italy, will guarantee a future of work and growth for the facility in Milwaukee.
"The sale of our North American die cast activities to Bruschi enables us to outsource the supply of die cast parts to a strong partner with high expertise, who is able to generate economies of scale due to a broader customer base. Thus, our customers will profit from high quality at improved cost", Tom Graf, CEO of Huf Group explained. "The acquisition of Huf North America Die Cast perfectly fits into our strategy to expand our global footprint and strengthen our position as experts for zinc die casting in key markets. The site has an excellent track record as manufacturer of high quality Zamak parts for the automotive industry. This ideally complements our customer base in electronics, household appliances, textile and other industries. Our company firmly believes in the United States, both in technological and market terms: this is why we have invested and we will keep investing. Our aim is to grow. In order to grow we will need results that, both in the United States and in Italy, we will have to achieve necessarily. This is how we live market and work. We sell complex systems with the constant aim of TTM reduction, working with global and complex customers and trying to bring in every context our management approach. We do not manufacture products, we are a supplier of solutions and this characteristic allows us to play in multiple sectors." Paolo Rastelli, CEO of Bruschi said on the occasion of signing the contract.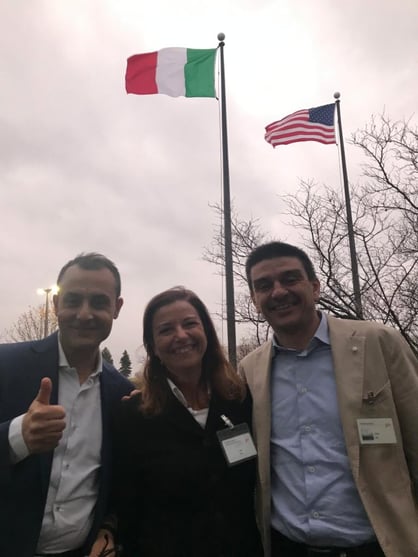 Matteo Coppola, Monica Mazza and Paolo Rastelli
Bruschi components are part of everyday life: electronics, automotive, electromechanical, building, furniture, lighting, small and major appliances. Being always well-aware that its products will be used frequently, all over the world, by millions of people, Bruschi understands that its clients' needs span down to those of final end-users: it is their satisfaction the ultimate key for success.
Technology and experience are indeed Bruschi weapons to increasingly achieve better results. It is this approach that can make the difference on the market.
Fieldfisher Dusseldorf acted as legal advisor of HUF INTERNATIONAL GMBH with Jan Hartmann and Ricarda Grzeschik; while Bruschi USA Inc. was represented by TCA Triberti Colombo & Associati with Nicola Salvarani, Federica Ballerini and Stefano Versace.