New appointment with the webinar cycle "1 hour of ... with ...": guest of the day Fefè De Giorgi
by Stefano Airoldi
May 10, 2023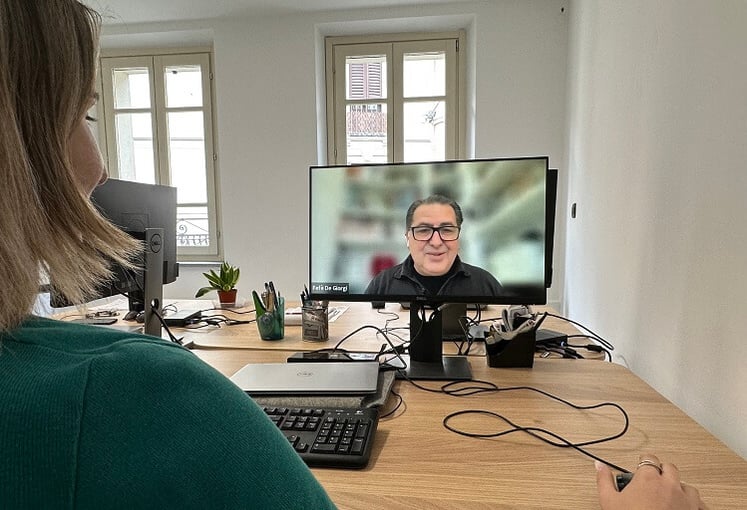 On 4 May 2023, the appointment "1h of... with..." organized by Bruschi for all his collaborators and customers, friends, and selected suppliers was back on stage: the host of this meeting was the coach of the Italian men's national team of volleyball, World and European Champion Ferdinando De Giorgi, known as Fefè.
After the great guests of the past year, for this first event of 2023, Bruschi has chosen a character with an extraordinary story, who told those present about the challenges faced during his experience as a player and the fundamental elements that allowed him, as a coach, to build a team of young people by guiding them to success.
"1h di… con…" is the Bruschi format of in-depth analysis of economic, social, and business topics. Mr. De Giorgi was a guest capable of recounting his experience, conveying valuable learning and food for thought derived from his own personal and professional life. Mr. De Giorgi is, in fact, a volleyball coach and former Italian volleyball player, setter role, and current coach of the Italian men's national team. As a player, during the eighties and nineties of the twentieth century, he was part of the so-called generation of phenomena of the Italian national team, with whom he won three world championships: Brazil in 1990, Greece in 1994, and Japan in 1998. As a coach, he boasts of the 2021 European Championship and the 2022 world title among his titles.
From his experience, De Giorgi has derived his own concepts of the game, translating the message into business terms. The concepts he wanted to leave to the Bruschi guests went beyond the sporting metaphor, instead inspired reasoning applicable to everyday professional life.