FREE DIE CASTING SIMULATION WHITEPAPER
In the process of zinc alloy die casting, feeding the die is of crucial importance both for the quality, the strength and the finish of the product and for the life span of the die. The element that most influences the casting is the feeder duct that leads the alloy into the die.
The simulation of filling and solidification phases may therefore predict possible defects caused by non-uniform liquid flow, high temperature gradient, local increase of velocity, and other issues. With this instrument, it is possible to optimize the entire production with positive effect on the final product in terms of esthetics and efficiency and on the duration of die life.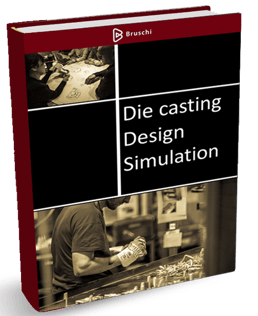 Download this FREE Whitepaper and learn how Magmasoft Simulation can:
Improve Esthetical quality of the final product.
Reduce scrap percentage.
Improve the mechanical characteristics.
Reduce die maintenance and increase it's life span.
Optimize set-up parameters
Please fill out the form to your right and download your FREE Whitepaper.


Testimonials

from our

customers
"My experience with Bruschi has been a very gratifying journey. From the early days of the project where we had to choose a supplier with highly capable people, methods and manufacturing process, it was clear to me that Bruschi was a winning choice. Their team is committed to the high quality expectation our brand is associated with."
KitchenAid Small Appliance Global Senior Quality Manager Darrin Keiser
"This achievement award is a significant industry recognition of innovative thinking that resulted in a better product and value to our customers, as well as an example of working closely with innovative supply chain partners to finds better ways to manufacture ARCA products."
ARCA Global Technology Lead Link Allen Shaver